Arranging the Funeral
You do not have to wait until the death has been registered before contacting us about arrangements for the funeral.
Funeral arrangements can be made either in your own home or at one our funeral premises.
There will be a number of decisions that you will need to make when planning a funeral.
Our knowledgeable and experienced staff are happy to assist you by providing answers to any questions you may have, enabling you to make an informed decision.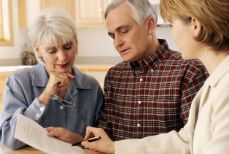 It is our belief that each person is individual, and that this should be reflected in the service we arrange for you.
We will advise and help you through this process by explaining to you the full range of services that we are able to provide.
The initial decision will be whether to have a cremation or a burial. There are many factors that may influence this decision, including the wishes of the deceased, religion, family tradition and cost.
We will care for the deceased in accordance to your wishes and provide opportunities for viewing at our Chapel of Rest.
To meet the customs of all faiths, we also offer full facilities for washing and dressing the deceased. We pride ourselves in looking after the deceased with sensitivity and respect at all times.
We will liaise and make arrangements on your behalf with ministers, clergy, cemeteries and crematoria, as well as other third parties, as required.
Before signing the estimate of charges form, our funeral arranger will explain in full your liability of Funeral expenses and provide guidance on the financial help provided by the Department of Work and Pensions. Please refer to Help with Funeral Cost for more details.
Upon arranging the funeral, we will provide you with a client pack that contains information such as:
A5 Booklet - We Are Here To Help
A5 Funeral Service Prices List
'In Memory' Pages Booklet
Bereavement leaflet
Careline leaflet - SAIF
Gift Aid Form - Gift Aid Form - HLH.pdf
Reflection CD produced by H L Hawes & Son Ltd
Our aim is to remove any burden from the families we serve during what is already a traumatic time.
Contact us
For more information, guidance and/or funeral quotation please do not hesitate to contact us.