Limited Service Funeral
This service provides for: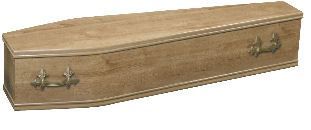 Provision of 24-hour assistance and support service
All arrangements in connection with the funeral
Assistance and advice in matters relating to the funeral
Attendance and Services of Staff
Attending to all documentation
Liaison with all necessary third parties
Bringing the deceased into our care
(within 20 mile radius)
Care of the deceased
Gown
Provision of motor hearse for the funeral, direct to a local Cemetery or Crematorium
Funeral Director and attendants
Lamboard Oak veneer effect coffin fitted with 2 pair's fleur self-colour handles.
This service specifically excludes:
Embalming
Provision of a Limousine
Cortège from Private address
Disbursement Fees and Other Service Charges.

Terms & Conditions: No part of this service can be upgraded or added to.