Order of Service & Funeral Stationery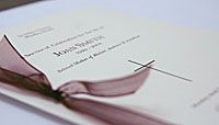 Personalise your loved one's funeral service with our range of Funeral Stationery.
For example, a printed Order of Service can be an added personal touch, as well as providing a precious keepsake for those who attend the funeral and for those who perhaps are unable to attend the service.
We are always willing to talk to you and discuss your individual requirements in detail and are able to customise a design to suit your requirements.
For a more personal touch we are happy to incorporate portrait or family photos of the departed and add any text or phrases that have special meaning.
Contact us
Please Contact us and we will be happy to discuss your individual requirements.